Product Theatre
Product Theatre offer
SAAFoST is offering time slots in the Product Theatre where the opportunity exists for companies to showcase their unique application solutions.

Cost to secure a 30-minute slot is R3 500+VAT for exhibitors and R5 000+VAT for non exhibitors (see booking form for time slot options).

The venue will be meeting room 2 at the Century City Conference Centre, seating approximately 35 people.
These sessions will be advertorial presentations by ingredient suppliers and service providers covering a variety of topics: Topics include (but are not limited to):

Fibre
Salt reduction
Sugar reduction
Texturisers
Ingredients for value engineering
Colours and flavours
New and novel ingredients

Details of the presentations in the Product Theatre will be advertised:

on the Congress website
in the exhibition manual given to every delegate - as well and to all exhibition visitors
by invitation from the presenting companies
via a notice in the exhibition hall "Today's/tomorrow's presentations in the Product Theatre."
For more information, or to book a session, please contact Jacques van den Berg (jvandenberg@coca-cola.com) or Rosie Maguire (rosie@inessence.co.za).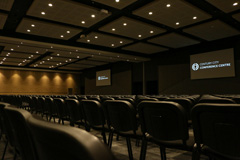 Please note that only 22 time slots are available.
Please click here for the booking form.
On-screen advertising opportunities
On-screen advertising slots are available in the large plenary venues (auditoriums 1 and 2) at a cost of R5 000 (excl VAT) per day. These screen slides would be viewed for 10 secs every minute during lunch and tea breaks (not during presentations). A maximum of 6 slide spots per day are available.

If you are interested in this opportunity, please contact Paul Vet paul.vet@barentz.co.za
Product Theatre Programme
Monday, 04 September 2017
11:00 - 11:30
Sea Salt - With naturally reduced sodium
Nico Basson
Salinity, Atacama Desert
11:40 - 12:10
Sugar reduction - Latest formulation technologies
Brian Lanton
Cape Food Ingredients, SA
12:20 - 12:50
Extracted Dietary Fibers and Cellulose Derivatives in health oriented Trend Food.
Stefan Schmitt-Rechlin
J.Rettenmaier & S�hne, Germany
13:20 - 13:50
Smoked food: Ancient technology adapted for 21st century
Thapelo Mashego
Kerry, SA
14:00 - 14:30
Unveiling the mysteries behind the universal love of cheese - The Westerner's "Kokumi"
Martin Dovey
Kerry, SA
14:40 - 15:10
SODA-LO� Salt Microspheres to reduce salt in foods, preserving a clean taste and clear label - Case studies in bread and snacks application
Jacques Masset
Tate & Lyle, France
15:30 - 16:00
Free from: trends in the food space - 2017
Mohamed Ashraf
Cargill METNA
16:10 - 16:40
Food Phosphates In Dairy Application
Gavin Keeling/Audace Nindorera
ICL presented by Crown FoodGermany
Tuesday, 05 September 2017
11:00 - 11:30
Colouring Foods - Global Trends
Patricia Kruger
Technical Manager; Sensient Colors SA
11:40 - 12:10
Controlled release of ingredients via speciality encapsulation - Case study on sorbic acid
Janis Sinton
Taste Tech, UK
12:40 - 13:10
Recent developments in the field sweeteners and their use in the replacement of sugar in foods and beverages
Mary Quinlan
Tate & Lyle, UK
13:20 - 13:50
Soluble Fibres: Innovative ingredients for calorie reduction and health benefits
Kavita Karnik
Tate & Lyle, UK
14:00 - 14:30
Healthier local sweet baked goods consumer feedback and opportunities
Garry Mendelson
Senior Research Scientist & Applied Nutrition Science Manager, DuPont Nutrition & Health Russia
14:40 - 15:10
Long life yoghurt for Africa opportunities, challenges and solutions
Brett Wordon
Group Manager DuPont Nutrition and Health South Africa
15:30 - 16:00
Differentiate your brand with bioactive collagen protein
Monique Barnard
Lake International, South Africa
16:10 - 16:40
Sugar Reduction - Natural & Cost Effective
Judy Day
Doehler, SA
Wednesday, 06 September 2017
11:00 - 11:30
New solutions to replace titanium dioxide)
Patricia Kruger
Technical Manager; Sensient Colors SA
11:40 - 12:10
Sensory evaluation: Getting marketing and NPD to speak the same language (interactive presentation)
Ashwin Lala
Cape Food Ingredients, SA
12:20 - 12:50
Vana Cappa: Innovative beverage foamer technology
Rob Verhoogt
FrieslandCampina: Kievit, Netherlands
13:20 - 13:50
True taste stock concentrates - From food, for food
Martin Dovey
Kerry, SA
14:00 - 14:30
Finding the niche in an overcrowded flavour supply environment. The Curt Georgi flavouring opportunity
Wayne V. Wieuwenhuizen
LionHeart, SA
14:40 - 15:10
"TasteSense" - Overcoming the latest challenges to help address consumer needs
Ryan Ponquett
Kerry, SA